"I'm amazed at how effective your soundproofing is!"
Nick Knowles, Presenter of DIY SOS
---
A great soundproofing quote from Nick Knowles of DIY SOS
Click on the 5 minute video below to see which solution suits you and how much £ it costs per wall.
Fill out the form below and we will get in touch with you
We do everything!
Survey. Install. Guarantee
We guarantee to achieve any agreed noise reduction level with our soundproofing materials.
No structural alterations
Tailor made bespoke solution
Fire resistant
40 years experience
Fully guaranteed
Fully trained engineers
"Magic" tile system
We will BEAT any like for like survey
Over 1,000 satisfied customers
Confidential installation
Appeared on national television
Just get in touch with us today and find out how we can block annoying noises and give you privacy back in your own home. It's that simple!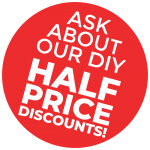 Testimonials
Find out how Noisy Neighbour Soundproofing has helped people from all around the UK get their lives back. Read more testimonials

We promise the best, we deliver the best, because we are the best!
We will even beat any genuine like for like survey
"Is your life a living nightmare because of your noisy neighbours ?"
"Are you losing sleep ?"
"Is it putting pressure on your relationship ?"
"Is there loud music going on and on ?"
We don't just deal with all your serious noise problems, we solve all your serious noise problems.